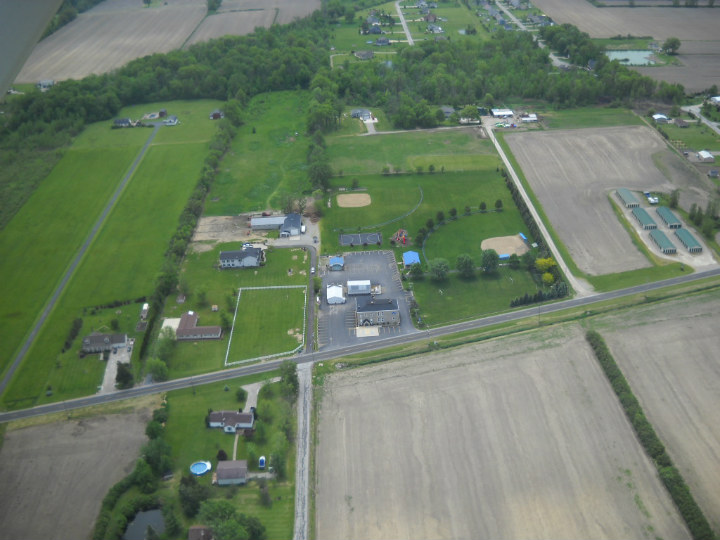 Danbury Township encompasses are area of 17.76 square miles which includes 32.75 miles of Lake Erie, Sandusky Bay and Harbor shoreline. The historic Village of Marblehead is located at the east end of the Township. The permanent population of Danbury is 4,264 with an additional 903 residing in the Village. Seasonal homes, condominiums, marina, campgrounds, cottages and recreational vehicle parks are home to a population of several thousand summer-only residents. Danbury was named for the original settlers who arrived from Danbury, Connecticut and became a township on March 6, 1840. The Village of Marblehead was incorporated in 1891.
MISSION STATEMENT
"The Mission of the Danbury Township Board of Trustees is to provide fair and representative government for all citizens, to foster pride in the community, to ensure fiscal solvency, to preserve and protect natural and historical sites, and to operate within the parameters of the laws of the State of Ohio while making certain that the Township remains an enjoyable place to live for both permanent and seasonal residents."
Welcome!
We hope you enjoy our website and find new information that has never been posted before. Please be patient with us as we continue to add new information!
Public Records Request Form
2019 Focus on Danbury Twp. - Year End Review
Fall Newsletter - NEW!
We'll be using this section to post the most current information we need to communicate in a timely manner. As always, if you need to reach any of us just refer to the Contact Information.
Limited Access into Police Station
Effective 11/27/2020 the secure shredding and prescription drop-off services at the Danbury Township Police Station will not be available. This temporary suspension of services is due to the coronavirus and the need to limit in-person contact. The Police Station will only be accessible to our Officers. The direct number for the station is (419) 732-2549. To dispatch a Danbury  Officer call the Sheriff's Office Dispatch at (419) 734-4404. For all emergencies call 911.
Bids will be received for the Site Development & Salt/Material Building via mail by the Danbury Township Board of Trustees at their offices located at 5972 East Port Clinton Eastern Road, Marblehead, Ohio 43440 until 10:00 a.m. on Wednesday, December 16, 2020, or hand delivered immediately prior to the bid opening on December 16, 2020 at 11:00 a.m.at the bid opening location, Danbury Township Fire Station No. 2, 150 S. Bridge Road, Marblehead, Ohio, and at that time and place will be publicly opened and read aloud.
Click here for full Bid Details. 
Should anyone want to examine the plans at the Township Offices as outlined in the 'Bid Details' link above, please call 419-734-4091 or 419-732-3039, or email roads@danburytownship.com or assistant@danburytownship.com to schedule an appointment.
Upcoming Trustee Special Meeting Dates
The Fiscal Officer and President of the Trustees will hold their annual Records Commission meeting at 5:45p.m. on December 9, 2020, fifteen minutes prior to the beginning of the regular township meeting.
The Trustees will hold their annual Organizational meeting on December 30, 2020 at noon in the meeting room at Township Hall.
Ohio Small Business Grant
October 26, 2020, Ohio Governor Mike DeWine and Lt. Governor Jon Husted  announced a $125 million grant program to help small businesses that have been harmed by the effects of COVID-19.
The grants will provide $10,000 to small businesses in Ohio with no more than 25 employees. The program will be administered by the Ohio Development Services Agency. Eligible businesses that are approved to receive grants can use the money for a variety of expenses, including mortgage or rent payments; utility payments; salaries, wages, or compensation for employees and contractors; business supplies or equipment; and other costs.
To ensure the grants are spread throughout the state, $500,000 will be set aside for businesses in each of Ohio's 88 counties. As businesses in each county are approved for funding, the $10,000 grants will be awarded on a first-come, first-served basis. When a county's allocation is depleted, businesses in that county will be eligible to receive grants from the remaining funds in the overall grant program. If businesses in a county do not deplete the county's allocation within 21 days after the application period opens, the remaining funds will become available to businesses statewide.
The application opens November 2 at businesshelp.ohio.gov. Funding for the program is contingent on approval by the Ohio Controlling Board. 
Restaruant & Bar Assistance Program
October 26, 2020, Ohio Governor Mike DeWine and Lt. Governor Jon Husted  announced that the state of Ohio has created a $37.5 million fund to help bars and restaurants that have been hurt by the COVID-19 pandemic. The fund will provide $2,500 grants to eligible liquor permit holders in Ohio.
The application for the Bar and Restaurant Assistance Fund will be available at businesshelp.ohio.gov starting November 2. Businesses applying for funding will be required to establish a registration ID with the state of Ohio. To create a new OH|ID, which provides users with secure access to State of Ohio services and programs, click here.
Permit holders may apply for the liquor assistance funding as well as the Small Business Relief Grant. Funding for the program is contingent on approval by the Ohio Controlling Board.
The brush drop-off located at 310 S. Bridge Road (SR 269 South) behind the dog park is still open! The site is typically closed for the winter by the end of November, 1st part of December. This is all dependent on weather and how long it takes leaves to fall. An official close date will be posted here on the website. It does not reopen then until Spring, usually April. For your safety, the brush area is not to be used after dusk. 
Rule Reminders:
No Grass Clippings
No Rootballs or Stumps
No Plastic Bags (paper yard bags are okay to leave behind)
No Contractors
No Dumping after Dusk
This is for residents of the Township. Please only bring leaves and tree limbs. Hay bales are acceptable, but please make sure they are broken apart and take the twine string with you. Plastic and string get tied up in the machinery when it's time to mulch it.  
In the blue band above, please click on "Community". There is a tab dedicated to sharing all the announcements the Township officials are receiving in regards to Coronavirus Covid-19. 
The Township Hall remains closed to the public until further notice, with the exception of Trustee Meetings and Zoning Meetings as needed.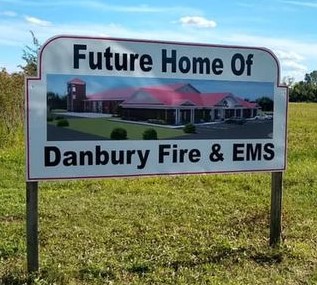 Located at 7870 E. Harbor Road near Dollar General will be the location of a new Centralized Fire & EMS Station and Training Facility. The property consists of nearly 7 acres. More information will be updated here on the Township Website as it becomes available. To see some preliminary and conceptual plans for the new building, please click here.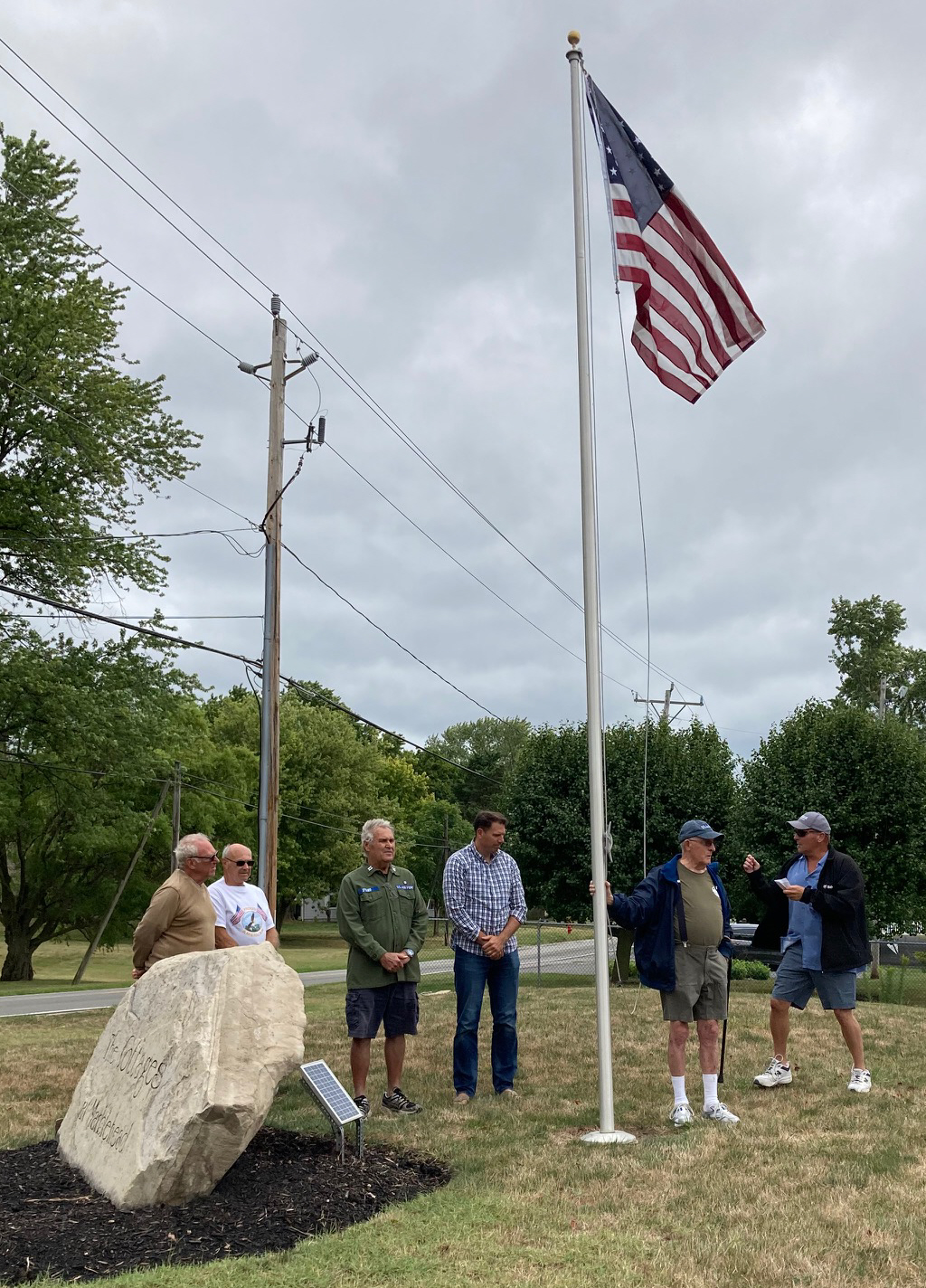 On Saturday, August 29, 2020 the Cottages at Marblehead Association raised a new American Flag in conjunction with recognizing five United States Veterans who reside in the development. From left to right: Alex Sales - U.S. Navy; Tom Barnes - U.S. Air Force; Bill Stano - U.S. Air Force; Jonathon Borys – U.S. Marine Corps. and Dallas Stiles – U.S. Navy Veteran who served in WWII and Korea. Far right is Guy Page, association member who announced the servicemen. A resolution from the Danbury Township Trustees commending the recognition of these Veterans was presented by Dianne Rozak.
Recycling at Police Station
Our recycle area at 419 Bridge Road continues to be a source of frustration and concern for both Danbury Township and the Solid Waste District. As stated previously, we sadly found it necessary to have video surveillance due to the abuse of the area with non-recyclables (including a vacuum cleaner, table and chairs, dishwasher, mattress and numerous other trash items). It's a great service for residents when it is used properly – and it is for residential use only. Unfortunately we have also found that a primary reason the dumpsters are overflowing so quickly is due to heavy use by businesses. This was never meant to be a service for businesses or contractors. Now it is interfering with residents being able to utilize their service. The Solid Waste District advised that if a business wishes to recycle they can make arrangements with Waste Management by calling or emailing Matthew Leis (248) 285-0330 mleis@wm.com or Republic Services by calling (800) 234-3429. This post is a courtesy notification and enforcement will begin June 15, 2020. In the interim, we are asking that businesses voluntarily STOP using the residential recycling area. If you know of a business that does not utilize Facebook, please help make them aware of this information. We don't want to eliminate recycling or brush drop-off but the abuse at both areas has become overwhelming for our employees. Please help us to help you keep these services and do not ever hesitate to contact the police at (419) 732-2549 to report abuse of our services.
It is the policy of the Danbury Trustees to not accept anonymous complaints regarding tall grass, junk vehicles or other nuisance concerns. A written complaint regarding issues within 500 feet of your property will be accepted and reviewed to determine what action may be taken. In the blue band above, please go to Departments, then Zoning and the tab about "Violations" for more information and to print out a complaint form.
Ottawa County Sheriff's Office New Mobile App
The Ottawa County Sheriff's Office has launched a new mobile app. It is a free app available for both Android and Apple users. Their hope is to improve communication with the public. Thru the app, users can receive notifications of snow levels, major traffic accidents or detours, missing people or other warnings of potential danger. Features on the app, include the jail roster, sex offender registry, contact information for sheriff's divisions, submitting tips, links to other law enforcement websites and more.
Ottawa County Emergency Alerts WENS system
We encourage you to sign up to the Ottawa County Emergency Alerts WENS system. In the event of an emergency or severe weather condition, a text message will be sent to the mobile number and/or your email address that you specify. This is a free service provided by Ottawa County, Ohio.
To receive alerts, please click here to sign-up.
50th Anniversary of Danbury Township Police Department
In 2019, the Danbury Township Police Department will celebrate 50 years of dedicated service to our community. Each member of the department was issued a 50th Anniversary badge to wear proudly on their uniform. The members of our department are committed to making sure that Danbury Township continues to be a safe place to live and enjoy.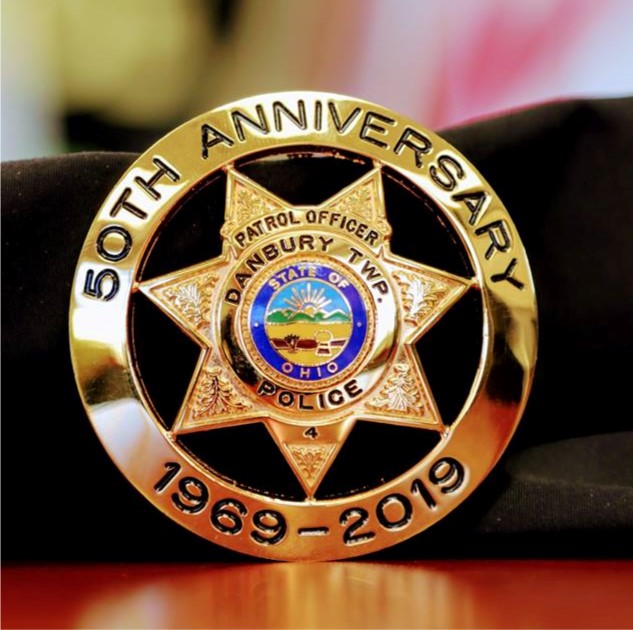 FEMA Great Lakes Coastal Study & New Flood Map Information
FEMA is preparing new Flood Insurance Rate Maps (FIRMs) for Ottawa and the surrounding Counties. While Ottawa County recently adopted maps in 2015, these proposed new maps would replace the 2015 maps. For more information, please contact Ottawa County Regional Planning Commission at (419) 734-6780. Information can also be found at www.greatlakescoast.org 
Now Accepting Reservations for Lake Point Park Shelter House!
The Township has began accepting reservations for Lake Point Park shelter house, but for a fee. It will continue to be open to the public daily unless otherwise posted as reserved. The cost to reserve the shelter house is $300. All reservations must be received by the first of the month of the month prior to the event  (i.e. July events, reservations must be made by June 1st). Reservations are on a first come, first serve bases and the date is not officially reserved until a complete reservation form and payment has been turned in. Once a reservation has been made, the party will have the shelter house reserved for them the entire day. We do not reserve more than one event per day. Attendee's are asked to clean up after themselves and wrap up all activities by dusk. Reservation forms are available under the Service & Maintenance Departments web page or at the zoning office during their office hours. 
For more information regarding Rainbow Ridge at Meadowbrook Marsh in memory of the 10 animals that perished in a barn fire Thanksgiving evening 2019 at African Safari Wildlife Park, please click on the "Community" link above in the blue band and then select the "Rainbow Ridge" button. You can also click on the photo below to see a printable flyer.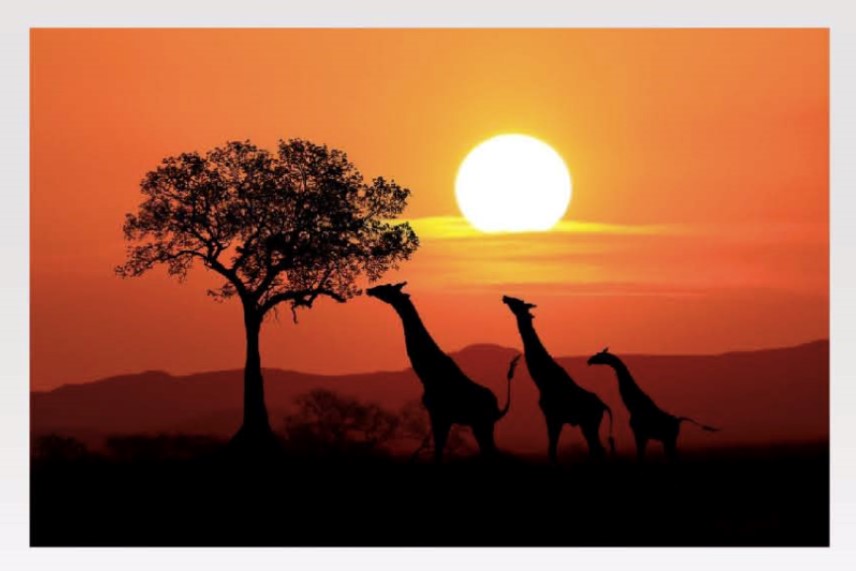 Appointed Positions Available
If you have interest in serving on the Danbury Township Zoning Commission (ZC) or Board of Zoning Appeals (BZA) please submit an Appointed Position Application as well as your resume to Kathryn A. Dale the Danbury Township Zoning & Planning Administrator. She can be reached at (419) 734-6120 for more questions.
The Zoning Commission meets the 1st Wednesday of each month at 6:30p.m. and is responsible for amendments to the zoning resolution and map. The Commission is comprised of 5 regular members and 2 alternates. An appointment is for 5 years, unless fulfilling a vacated seat. 
The Board of Zoning Appeals meets the 3rd Wednesday of each month at 6:30p.m. and is responsible for hearing requests on Appeals, Area Variances, Conditional Uses and Special Exceptions. The Board is comprised of 5 regular members and 2 alternates. An appointment is for 5 years, unless fulfilling a vacated seat.
To be considered for either position, your permanent residence of record must be Danbury Township. Applications will be accepted until the positions are filled.
---
Board of Zoning Appeals
None at this time. 
---
Zoning Commission
The Danbury Township Zoning Commission will hold a public hearing beginning at 6:30 p.m. on Wednesday, December 2, 2020 at the Danbury Township Hall, 5972 E. Port Clinton Eastern Rd., Marblehead, Ohio for the following applications:
Request for Text Amendments to add new definitions to Section 2.2, expand Permitted and Conditional Uses listed in Section 3.4 Use Matrix, Reduce Commercial front-yard setbacks in Section 3.5 District Requirements and increase setback requirements for Commercial Zoning Districts that abut Residential Zoning Districts and lower maximum building height requirement in Manufacturing Zoning Districts. Add new Section 4.18 establishing Use Standards for Solar Field or Farm, modify Section 5.2.4 clarifying permitted accessory uses in the LBO Zoning District, modify Section 5.10.3.B. establishing parking space requirement for Athletic Fields, modify Section 5.10.4 clarifying parking lot setback requirements from property lines and cross-reference to Landscaping & Buffering Requirements of Section 5.8 and modify Section 6.4 clarifying wall signage requirements for commercial uses in residential zoning districts that was erroneously left out from a prior amendment. Danbury Township, Applicant.
Attendees must wear a mask. A copy of the application may be viewed at the office of the Zoning Inspector at Danbury Township Hall by appointment. The amendment may also be viewed at the Ottawa Regional Planning Commission office at the Ottawa County Courthouse or by clicking on the case information above. At the conclusion of said hearing and upon a decision made, the amendment will be submitted to the Danbury Township Board of Trustees for action.
---
Board of Trustees
The Danbury Township Board of Trustees will hold a public hearing beginning at 5:00 p.m. on Tuesday, December 1, 2020 at the Danbury Township Hall, 5972 E. Port Clinton Eastern Rd., Marblehead, Ohio for the following application:
ZC-2020-244    9605 E. Bayshore Road. Request for a Map Amendment from "R-3" High Density Residential to "R-C" Recreational Commercial for PIN# 0141903031583000 (Sec. 1, Lot 9) consisting of 0.76 total acres. Dean & Ann Rader, Owner/Applicant.
Attendees must wear a mask. A copy of the proposed amendment may be viewed at the office of the Zoning Inspector at Danbury Township Hall by appointment, at the Ottawa Regional Planning Commission office at the Ottawa County Courthouse or by clicking on the case information above. At the conclusion of said hearing and the Danbury Township Board of Trustees will take action.
Contact Information
Danbury Township Hall
5972 E. Port Clinton Eastern Rd.
Marblehead, OH 43440
Phone: (419) 732-3039
Fax:     (419) 734-3137
Hours for the Trustees & Fiscal Officer are by appointment.