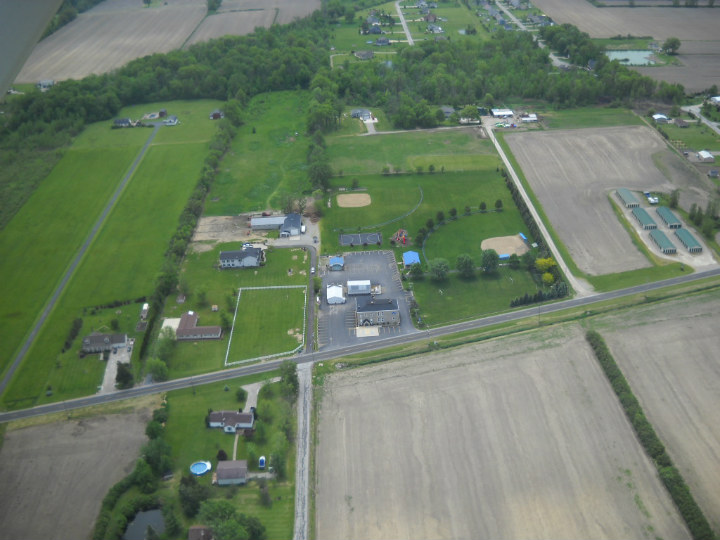 Danbury Township encompasses are area of 17.76 square miles which includes 32.75 miles of Lake Erie, Sandusky Bay and Harbor shoreline. The historic Village of Marblehead is located at the east end of the Township. The permanent population of Danbury is 4,264 with an additional 903 residing in the Village. Seasonal homes, condominiums, marina, campgrounds, cottages and recreational vehicle parks are home to a population of several thousand summer-only residents. Danbury was named for the original settlers who arrived from Danbury, Connecticut and became a township on March 6, 1840. The Village of Marblehead was incorporated in 1891.
MISSION STATEMENT
"The Mission of the Danbury Township Board of Trustees is to provide fair and representative government for all citizens, to foster pride in the community, to ensure fiscal solvency, to preserve and protect natural and historical sites, and to operate within the parameters of the laws of the State of Ohio while making certain that the Township remains an enjoyable place to live for both permanent and seasonal residents."
Upcoming State/ Bayshore/ Port Clinton Eastern  Intersection Improvements
Ottawa County Engineer's Office in conjunction with Gerken Paving will be beginning reconstruction of the State/Bayshore/ Port Clinton Eastern Road intersection at Bill's Implement starting on or about September 17, 2018. Construction is expected last until October 26, 2018, weather permitting.
This work will require intermittent lane closures during work hours of 7:00am-5:00p.m. on Bayshore Road. Traffic will be maintained on Bayshore & State Roads, but motorists should expect delays. Additionally, access to Bayshore Road from Port Clinton Eastern Road and vice versa will not be available. Port Clinton Eastern Road will only be accessible from State Route 269 (S. Bridge Road).
Updates about the closure or changes to the closure timeline can be found on the Ottawa County Engineer's website.
Temporary Change in Zoning Office Hours
Starting July 16, 2018 there will be a temporary change in zoning office hours while an employee is on leave. The zoning office will close at 3:00p.m. instead of 4:00p.m. on M, Tu, Th, and F. Wednesday office hours will remain the same. Please be patient as there will only be one person available to assist during this time. We recognize that this is the busiest season for construction and staff will get back to you as soon as they can.
Danbury Township hires first female Police Officer
June 25, 2018 marked the beginning of a new era in Danbury Township Police Department with the first-ever swearing-in of a female Patrol Officer, Vikki Fritz. Officer Fritz was accompanied by her husband CJ and her family as Fiscal Officer Carolyn Adams administered the police oath. Also in attendance were Trustees Dave Hirt, Dianne Rozak, John Paul Dress, and several close friends. Please welcome Officer Fritz as she begins to meet and serve the residents of our Township and wish her a safe and prosperous career.
It is the policy of the Danbury Trustees to not accept anonymous complaints regarding tall grass, junk vehicles or other nuisance concerns. A written complaint regarding issues within 500 feet of your property will be accepted and reviewed to determine what action may be taken. Please go to Departments, then Zoning for more information and the form to file.
Ottawa County Emergency Alerts WENS system
We encourage you to sign up to the Ottawa County Emergency Alerts WENS system. In the event of an emergency or severe weather condition, a text message will be sent to the mobile number and/or your email address that you specify. This is a free service provided by Ottawa County, Ohio.
To receive alerts, please click here to sign-up.
FEMA Great Lakes Coastal Study & New Flood Map Information
FEMA is preparing new Flood Insurance Rate Maps (FIRMs) for Ottawa and the surrounding Counties. While Ottawa County recently adopted maps in 2015, these proposed new maps would replace the 2015 maps. FEMA anticipates that these new maps will be ready for adoption by 2018-2019. During this timeframe, they will conduct public meetings and community outreach for residents to attend and comment. The Township will do the best that we can to help filter that information to our residents.
News from the Leaf Brush Drop-off Site
Residents are welcome to help themselves to mulch at the brush pile behind the Dog Park off SR 269 until the supply of mulch is exhausted. This is for residents only and not for contractor use. Residents are not allowed to bring their own heavy equipment to load the mulch.  Outside the scheduled dates above, if you need assistance loading the mulch please contact the Maintenance Department at 419-734-4091 to schedule a time.
Wreaths Across America - December 15, 2018
There are over 2,605 fallen veterans buried in our Catawba, Johnson's Island, Marblehead and Port Clinton cemeteries. In recent years, not every veteran in our area received a wreath because enough money was not raised. The community organizers would love to have the ability to place a wreath on each and every grave, but they can only reach their goal with the community's help. They are looking to raise $26,000 in donations.
If you would like to DONATE, please click here for more information.
If you would like more information on how to be a SPONSOR, please click here.
2018 Clean-up Weeks CANCELLED
Due to unfavorable conditions of the general funds, the Board of Trustees made the hard decision at their 06.13.18 meeting to cancel the July & October clean-up weeks with the big dumpsters for the remainder of 2018. The Board is doing all they can to carefully review every single general fund expense. If residents have questions, the Trustees encourage you to contact them directly.
Future Newsletters
The Summer 2018 edition of the Township Newsletter will be the last one sent out this year. Future newsletters will be available for viewing here on the Township website and some hard copies will be available for pick-up in the Zoning Office.
Now Accepting Reservations for Lake Point Park Shelter House!
Starting in July 2018, the Township will begin accepting reservations for Lake Point Park shelter house, but for a fee. It will continue to be open to the public daily unless otherwise posted as reserved. The cost to reserve the shelter house is $300. All reservations must be received by the first of the month of the month prior to the event  (i.e. July events, reservations must be made by June 1st). Reservations are on a first come, first serve bases and the date is not officially reserved until a complete reservation form and payment has been turned in. Once a reservation has been made, the party will have the shelter house reserved for them the entire day. We do not reserve more than one event per day. Attendee's are asked to clean up after themselves and wrap up all activities by dusk. Reservation forms are available under the Service & Maintenance Departments web page or at the zoning office during their office hours. 
Appointed Positions Available
If you have interest in serving on the Danbury Township Zoning Commission (ZC) or Board of Zoning Appeals (BZA) please submit an Appointed Position Application as well as your resume to Kathryn A. Dale the Danbury Township Zoning & Planning Administrator. She can be reached at (419) 734-6120 for more questions.
The Zoning Commission meets the 1st Wednesday of each month at 6:30p.m. and is responsible for amendments to the zoning resolution and map. The Commission is comprised of 5 regular members and 2 alternates. An appointment is for 5 years, unless fulfilling a vacated seat. To be considered for the position, your permanent residence of record must be Danbury Township. Applications will be accepted until the position is filled.
The Board of Zoning Appeals meets the 3rd Wednesday of each month at 6:30p.m. and is responsible for hearing requests on Appeals, Area Variances, Conditional Uses and Special Exceptions. The Board is comprised of 5 regular members and 2 alternates. An appointment is for 5 years, unless fulfilling a vacated seat.
To be considered for either position, your permanent residence of record must be Danbury Township. Applications will be accepted until the positions are filled.
Police Department Burglary Prevention Tips
For those who are leaving the Danbury Township Peninsula either for a short vacation or for the entire winter season, the Police Department would like to offer a few tips to help make sure your residence is secure while you're away. As always, your neighborhoods will be patrolled and we're looking forward to your return. Have a safe Fall & Winter! Click here to view the flyer.
---
Board of Zoning Appeals
The Danbury Township Board of Zoning Appeals will hold adjudication hearings at the Danbury Township Hall, 5972 E. Port Clinton Eastern Road, Marblehead, Ohio 43440 on Wednesday, October 17 or Thursday, October 18, 2018 beginning at 6:30 p.m. on the following applications:
Continuation – Postponed Until October
BZA-2018-149      171 Lynn. Request for an Area Variance to Section 3.1.5 to allow for a new single-family home to be built in the same general location with a 0' front yard setback (5' required) and 1' south, side-yard setback (3' required). Skip & Amy Skolnik, Owner/Applicant; Travis Mayer/Agent. 
       Skolnik Ex. 3 Presented at 08.15.18 Hearing
       Skolnik Ex. 4 Presented at 08.15.18 Hearing
Tabled from 09.19.18
BZA-2018-178      7185-7233 E. Harbor Road. Request for a Conditional Use in accordance with Section 3.1.10.C.ii & Section 4.2 for a 29 site expansion to an existing 119 site Recreational Camp/Campground. Also requesting Area Variances to Section 4.2.2.iii to allow 4 camp sites to encroach into the south, side-yard setback (45' required/20' proposed) and Section 4.2.2.v to allow a road right-of-way to encroach into the 20' buffer, and Section 4.2.2.vi to alleviate the required open space (25%; 2.08ac. required/ 0% proposed) Tom Steinbrick, Agent/ Shady Shores LTD, Owner.                                 
Parties wishing to give testimony may appear in person or by attorney. Said hearing(s) may be continued from time to time as necessary. A copy of the aforementioned applications may be viewed at the office of the Zoning Inspector at Danbury Township Zoning Department during normal business hours or by clicking on the case information above. 
---
Zoning Commission
The Danbury Township Zoning Commission will hold a public hearing beginning at 6:30 p.m. on Wednesday, October 3, 2018 at the Danbury Township Hall, 5972 E. Port Clinton Eastern Rd., Marblehead, Ohio for the following application:
ZC-2018-182      Request for Text Amendments to Art.2, adding new definition #25 "Building Footprint" and amending definitions #70 "Floor Area" and #96 "Lot Coverage".  Article 5, Section 5.2.B clarifying parking standards when more than 50% of a structure is modified. Article 5, Section 5.5.7.C.i.e, remove reference to 'reproduction value' and replace with specific structural requirements for Nonconforming Signs. Article 7, Section 7.9, restructure entire section on Nonconforming Uses into like categories. Primary modifications include removing reference to 'reproduction value' and replace with floor area square footage requirements and to include a provision addressing the relocation of nonconforming structures. Danbury Township, Applicant.
A copy of the applications may be viewed at the office of the Zoning Inspector at Danbury Township Hall during normal business hours. The amendments may also be viewed at the Ottawa Regional Planning Commission office at the Ottawa County Courthouse or by clicking on the case information above. At the conclusion of said hearing and upon a decision made, the amendments will be submitted to the Danbury Township Board of Trustees for action.
---
Board of Trustees
None at this time.
Contact Information
Danbury Township Hall
5972 E. Port Clinton Eastern Rd.
Marblehead, OH 43440
Phone: (419) 732-3039
Fax:     (419) 734-3137
Hours for the Trustees & Fiscal
Officer are by appointment