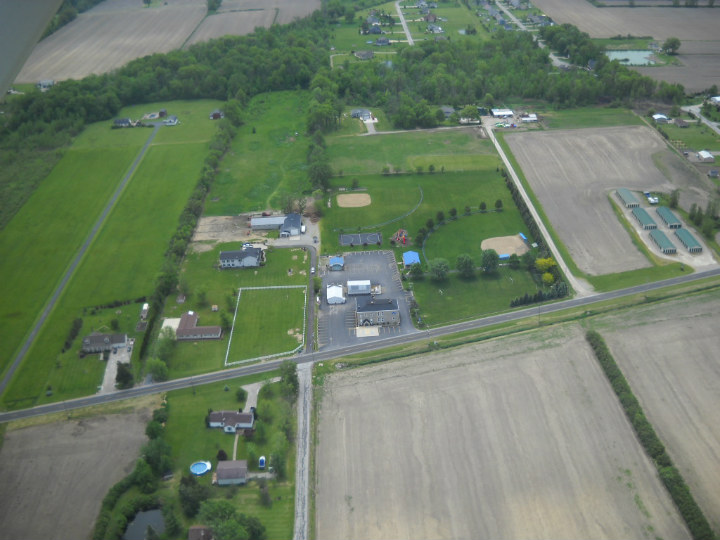 Danbury Township encompasses are area of 17.76 square miles which includes 32.75 miles of Lake Erie, Sandusky Bay and Harbor shoreline. The historic Village of Marblehead is located at the east end of the Township. The permanent population of Danbury is 4,264 with an additional 903 residing in the Village. Seasonal homes, condominiums, marina, campgrounds, cottages and recreational vehicle parks are home to a population of several thousand summer-only residents. Danbury was named for the original settlers who arrived from Danbury, Connecticut and became a township on March 6, 1840. The Village of Marblehead was incorporated in 1891.
MISSION STATEMENT
"The Mission of the Danbury Township Board of Trustees is to provide fair and representative government for all citizens, to foster pride in the community, to ensure fiscal solvency, to preserve and protect natural and historical sites, and to operate within the parameters of the laws of the State of Ohio while making certain that the Township remains an enjoyable place to live for both permanent and seasonal residents."
Zoning Office Hour Changes
Please be advised that as of April 1 the Zoning Office is
                                        CLOSED on Mondays
This will continue until October 1, and may continue through the winter months as well. Please call 419.734.6120 and leave a message or email zoning@danburytownship.com. 
The Zoning Office will be CLOSED the Week of July 3rd (July 3-July 7, 2023).
Electric Aggregation Program
Danbury Township residents are included in the Ottawa County Electric Aggregation Program.
The current rate is 4.81 cents per kilowatt hour, currently supplied by Energy Harbor.  This rate is good through December 2023. Prior to that time Palmer Energy, the energy consultant, will work with Ottawa County to complete an RFP and negotiate rates again. All eligible residents are covered at the 4.81 cents rate UNLESS they are in a PIP (percentage of income) program OR if they have actively shopped and purchased their electricity from a 3rd party supplier.
To confirm this, look at your Toledo Edison (TE) bill. On the right side you will see the Account Summary Section. Under this section you will see charges from Toledo Edison. After that section will be the supplier charges section. If it says Energy Harbor, you don't need to do anything to continue at the 4.81 cents rate.
If it doesn't say Energy Harbor, call the supplier listed on your bill and ask if there are early termination fees and/or switching fees. If there are no fees and you wish to leave that supplier, let them know you will be leaving. Then call Energy Harbor at (866) 636-3749 and specify that you wish to join the Ottawa County Electric Aggregation Program so they know which program to put you in.
If you only see charges from Toledo Edison, this means you are directly with the utility (TE) and you can join the Ottawa County Aggregation program by contacting Energy Harbor and following the same steps above.
Marblehead Village residents are not included in the Ottawa County Electric Aggregation at this time, because they signed under a separate program with a different rate and terms.
Clean-Up Week (Dumpster Days)
Clean-Up Weeks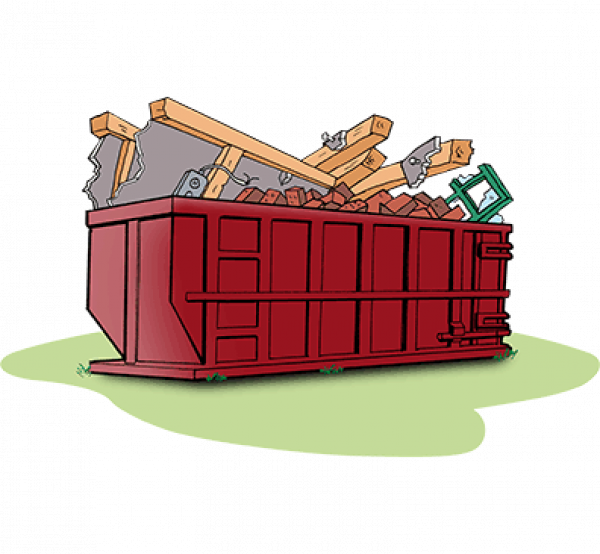 2023 Clean-Up's:   
June 20-24 and September 19-23
9a - 6p Tuesday-Friday
8a - 12p Saturday
This is for residents only, not contractors. 
Rules & Regulations that remain the same:
No tires
No brush
No oil
No paint
No batteries
No boats or vehicles
No propane tanks
NEW Rules & Regulations:
Employees will assist with loads up to 80 pounds. If able, you are expected to help unload your vehicle.
No loose building materials (shingles, drywall, insulation). These items must be boxed or bagged.
No metal scrapping - strictly prohibited.
No commercial loads.
Maintenance Staff has the right to refuse any load.
For 2023 Countywide Recycling Events, please look at the "Current News" section of our website. Additional information can also be found at recycleoss.org/danbury
Recycling at Police Station - NEW UPDATE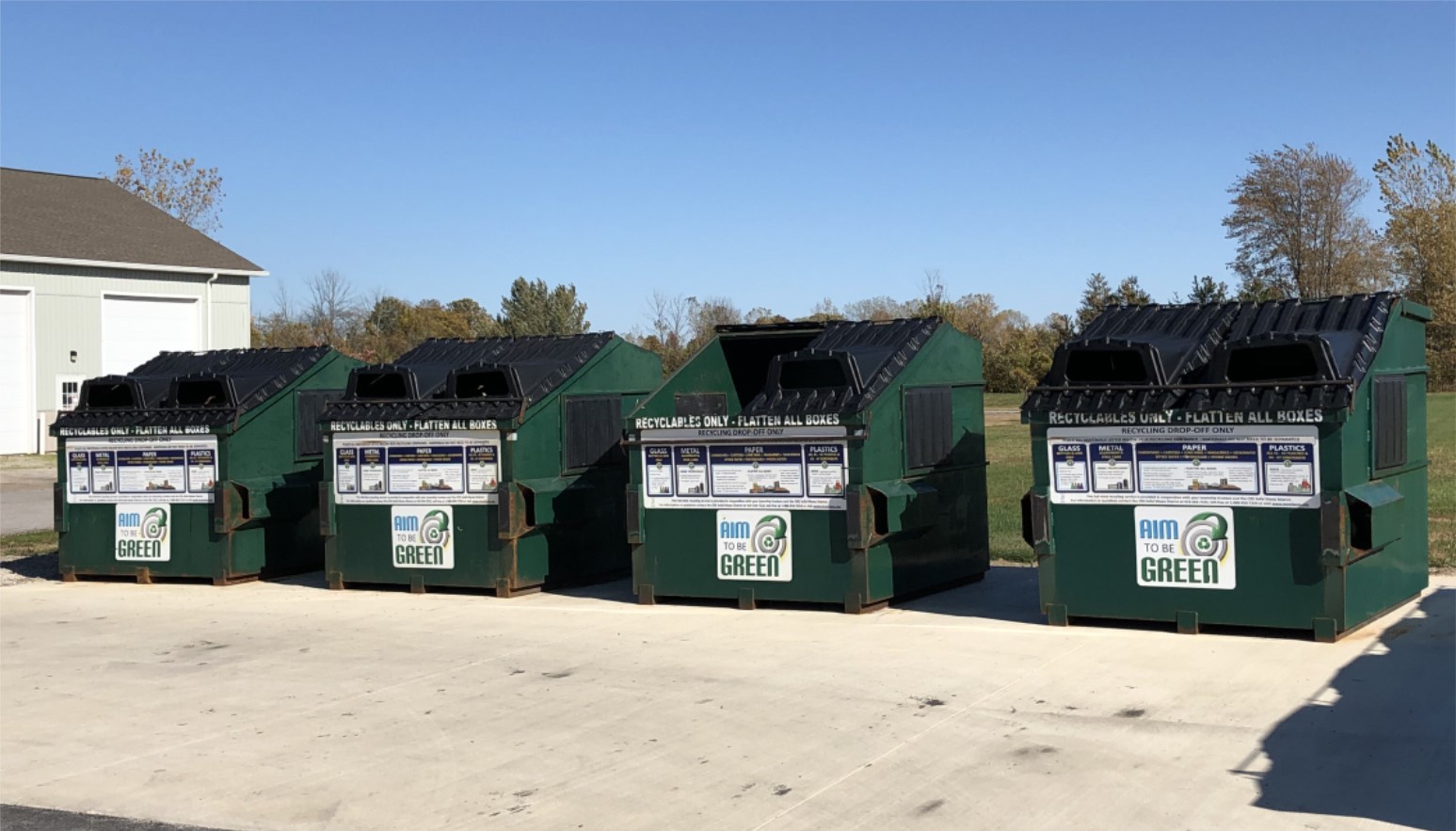 The Ottawa Sandusky Seneca Solid Waste District (OSS) has received a grant from the Ohio EPA and The Recycling Partnership to reduce contamination at the township recycling drop off sites.  The eight month project will support all 42 drop offs in the District while providing an added focus on the sites at Clay, Danbury, Ballville, York, Clinton (Station #2) and Loudon Townships.
Project activities will begin for Danbury the week of April 23-29, with vehicle/participation count at the recycling site. This will occur again June 25-July 1, August 4-30, and September 17-23 to compare seasonal vs. non seasonal numbers.
In May, material from each site will be collected by Rumpke Recycling and analyzed by a third-party contractor to create a site-by-site composition of all contaminants by weight, volume and percentage.  These results will be used to build our awareness strategies moving forward.
In late June, mailers will be sent to every eligible household in the district reminding residents of the recycling services available to them with emphasis on the top contamination issues. Through June and into early July, sites will have new signage installed on each container with additional free-standing signs placed on site to further address our contamination issues.
In July and August, local service groups working on behalf of the District will engage residents on site through surveys and material audits.  OSS is presently recruiting service groups to provide Saturday and Sunday engagements.  If you know of any local groups that may be interested in this fundraising opportunity, please contact them at (419) 334-7222.  In September, another material analysis will be performed to determine the level of contamination reduction that was reached as a result of the project. And finally, in October, participation counts will be done for a second time to determine if household mailers effectively increased participation rates.
---
Our recycle area at 419 Bridge Road continues to be a source of frustration and concern for both Danbury Township and the Solid Waste District. We sadly found it necessary to have video surveillance due to the abuse of the area with non-recyclables (including a vacuum cleaner, table and chairs, dishwasher, mattress and numerous other trash items). It's a great service for residents when it is used properly – and it is for residential use only. Unfortunately we have also found that a primary reason the dumpsters are overflowing so quickly is due to heavy use by businesses. This was never meant to be a service for businesses or contractors. Now it is interfering with residents being able to utilize the service. The Solid Waste District advised that if a business wishes to recycle they can make arrangements with Waste Management by calling or emailing Matthew Leis (248) 285-0330 mleis@wm.com or Republic Services by calling (800) 234-3429.
We are asking that businesses voluntarily STOP using the residential recycling area. If you know of a business that does not utilize Facebook, please help make them aware of this information. We don't want to eliminate recycling or brush drop-off but the abuse at both areas has become overwhelming for our employees. Please help us to help you keep these services and do not ever hesitate to contact the police at (419) 732-2549 to report abuse of our services.
The brush drop-off site located at 310 S. Bridge Road (SR 269 South) behind the dog park is OPEN! For your safety, the brush area is not to be used after dusk. 
Rule Reminders:
No Grass Clippings
No Rootballs or Stumps
No Plastic Bags (paper yard bags are okay to leave behind)
No Contractors
No Dumping after Dusk
This is for residents of the Township. Please only bring leaves and tree limbs. Hay bales are acceptable, but please make sure they are broken apart and take the twine string with you. Plastic and string get tied up in the machinery when it's time to mulch it. The brush drop-off site typically closes at the end of November/ early December. 
Seeking Purple Heart Recipients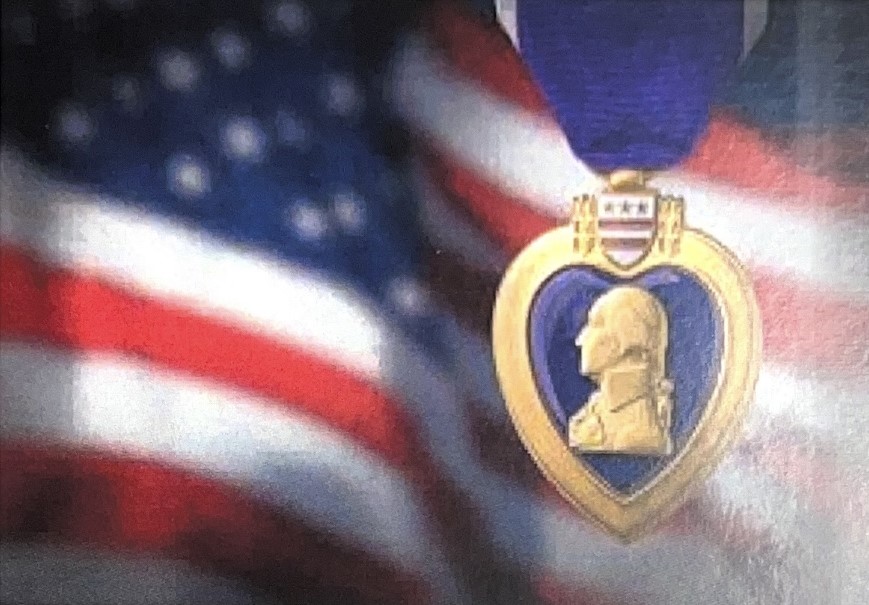 The Ottawa County Museum has been designated a Purple Heart Trail Museum. A key component of this designation includes creating a list of all Purple Heart recipients within Ottawa County. Purple Heart recipients or their family members are urges to register by filling out a registration form. For more information or to request a registrations form, please contact David Barth, Board Member, Ottawa County Museum, by phone at
(419) 357-2057 or by email at drb360@gmail.com. 
FirstEnergy High-Voltage Wire Improvements
FirstEnergy will be using helicopter crews to upgrade high-voltage transmission lines in the area until May. To view FirstEnergy's press release, please click here. 
It is the policy of the Danbury Trustees to not accept anonymous complaints regarding tall grass, junk vehicles or other nuisance concerns. A written complaint regarding issues within 500 feet of your property will be accepted and reviewed to determine what action may be taken. In the blue band above, please go to Departments, then Zoning and the tab about "Violations" for more information and to print out a complaint form.
Document Shredding & Prescription Rx Drop-off
The Danbury Township Police Department will resume accepting documents for secure shredding and and prescription drop-off services at the Police Station on SR 269. This is by appointment only to ensure an officer is present to place the items in the proper secure location. The direct number for the station is (419) 732-2549. 
Special Recycling Collections
Ottawa, Sandusky, Seneca County (OSS) Solid Waste District holds Special Recycling Collections throughout the year, typically at the Ottawa County Fairgrounds for items such as appliances, lead acid batteries, computers, household hazardous waste, tires, TV's & electronics. For more information about these events, to register, and where to drop off, please click here for the OSS link. Danbury Township is not involved with organization of these collections. Residents must contact OSS directly (419) 334-7222. 
To view & print the flyers for these collections, please click here.
Great Lakes Community Action Partnership (GLCAP) & Community Housing & Impact Preservation Program (CHIP) helps provide home repairs for eligible homeowners. For more information please Click Here for their flyer. You can also contact Sherry Evens, Program Clerk at smevans@glcap.org or (419) 333-6049


For more information regarding Rainbow Ridge at Meadowbrook Marsh in memory of the 10 animals that perished in a barn fire Thanksgiving evening 2019 at African Safari Wildlife Park, please click on the "Community" link above in the blue band and then select the "Rainbow Ridge" button.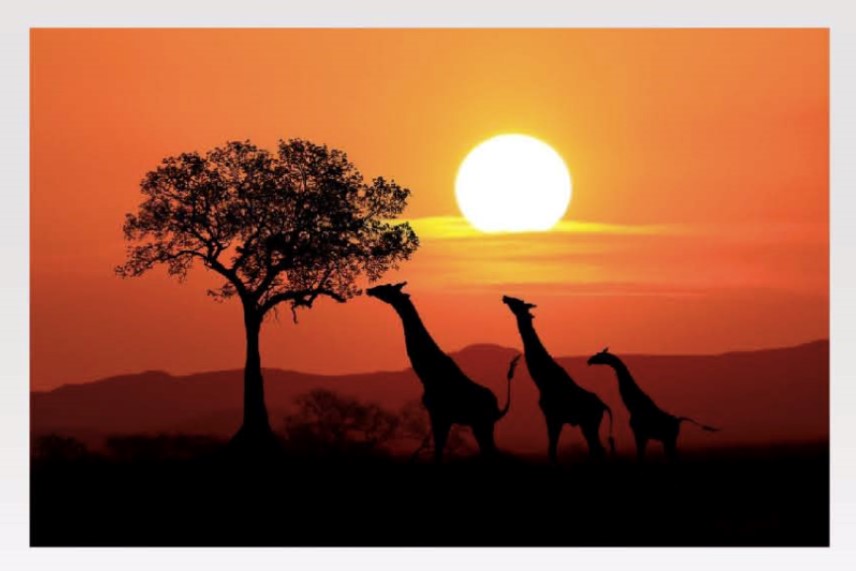 Now Accepting Reservations for Lake Point Park Shelter House!
The Township has began accepting reservations for Lake Point Park shelter house, but for a fee. It will continue to be open to the public daily unless otherwise posted as reserved. The cost to reserve the shelter house is $300. All reservations must be received by the first of the month of the month prior to the event  (i.e. July events, reservations must be made by June 1st). Reservations are on a first come, first serve basis and the date is not officially reserved until a complete reservation form and payment has been turned in. Once a reservation has been made, the party will have the shelter house reserved for them the entire day. We do not reserve more than one event per day. Attendees are asked to clean up after themselves and wrap up all activities by dusk. Reservation forms are available under the Service & Maintenance Departments web page or at the zoning office during their office hours. 
The Township is required to have this placed on our website per our insurance carrier.
The Transparency in Coverage mandate requires insurers and group health plans to make rate information publicly accessible to members and non-members starting July 2022. Medical Mutual will share rate information for Medical Mutual-contracted providers as well as historical allowed amounts and billed charges for out-of-network providers in a machine-readable file (MRF) format.  The information will be posted on a dedicated MRF landing page, accessible through MedMutual.com. To be considered compliant under the mandate, the regulations specify that ASO groups must include a link on their own website that directs users to the location of the publicly available MRFs.
The No Surprises Act (NSA), signed into law as part of the Consolidated Appropriations Act, 2021 (CAA), establishes federal standards to protect patients with health benefits coverage from "surprise" medical bills that may arise when receiving care from certain out-of-network providers and ancillary providers. 
https://www.medmutual.com/For-Employers/Employer-Resources/No-Surprises-Act-Legislation.aspx 
---
Board of Zoning Appeals

None at this time.
---
Zoning Commission
The Danbury Township Zoning Commission will hold a public hearing beginning at 6:30 p.m. on Wednesday, June 7, 2023, at the Danbury Township Hall, 5972 E, Port Clinton Eastern Road, Marblehead, Ohio for the following applications:
ZC-2023-061          7931 E. Harbor Road. Map Amendment from "R-3" High Density Residential to "R-C" Recreational Commercial for Part of Lot 16, Section 2, PIN# 0141169815647000 consisting of 8.1 of the 14.62acre parcel and PIN# 0141126815457000 consisting of 2.0 acres or 10.1 acres of the 16.62 total acres. Kott's Camp on the Lake, LLC/ Scott Harris, Owner/Applicant.
ZC-2023-074          319 S. Bridge. Map Amendment from "R-3" High Density Residential to "C-2" General Commercial and "R-C Recreational Commercial for Lot 3, Section 4, PIN# 0140467606665003 consisting of 0.505 ac. to be rezoned to "C-2" General Commercial and 11.1ac. to be rezoned to "R-C" Recreational Commercial of the 13.165 ac. parcel. Paul Gerrard, Owner/Applicant; Sam Downing, Agent.
A copy of the application may be viewed at the office of the Zoning Inspector at Danbury Township Hall by appointment. The amendment may also be viewed at the Ottawa Regional Planning Commission office at the Ottawa County Courthouse or by clicking on the case information above. At the conclusion of said hearing and upon a decision made, the amendment will be submitted to the Danbury Township Board of Trustees for action.
---
Board of Trustees
None at this time. 
Contact Information
Danbury Township Hall
5972 E. Port Clinton Eastern Rd.
Marblehead, OH 43440
Phone: (419) 732-3039
Fax:     (419) 734-3137
Hours for the Trustees & Fiscal Officer are by appointment.